Thursday, October 03, 2013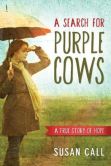 A SEARCH FOR PURPLE COWS
A True Story Of Hope
By Susan Call
OVERVIEW: A Search For Purple Cows
is the story of a wife and mother's amazing journey out of darkness into a life fully restored. In this moving and extraordinary memoir,
Susan Call
recounts what happens when love deteriorates into a cycle of abuse and betrayal. She chronicles how she first met her husband, a handsome, charming, generous man. They fell in love, married, and had two children. Their life seemed idyllic; they had a beautiful home and everything a family could desire. But inside the walls of that home, Susan was tormented by her husband's alcoholism, anger, and infidelity, which cast her into a world fraught with fear and despair. God found her in the midst of her pain and showed her, through the unlikely source of a Christian radio station, that hope and healing in God was possible even in the most unthinkable circumstances.
AUTHOR: Susan Call
is a speaker and author who enjoys sharing her insights from life's valleys, offering hope and wisdom to her audiences. She holds a master of science in marriage and family therapy from Eastern Nazarene College and a bachelor of arts in computer science from Susquehanna University. Susan lives in New Hampshire with her family. For more information, please visit SusanCall.com.
MY REVIEW:
When I saw the title,
A Search For Purple Cows―
I smiled
.
When I read the sub-title,
A True Story Of Hope―
I felt good. When I read the book―I had mixed emotions, beginning with sad. I am happy to tell you I did not end the book feeling sad, but I did have more than one emotion. They were still mixed.
This is a true story. I like to read but I especially like to read stories that are true. However, because there is so much sadness in this story I found myself wishing that much of it was not true. It has a happy ending and I like that. God turned Susan's darkness into light and her story became a story of hope. That is good. That is very good!
Everybody does not need to read this book but many do. If you are not one who needs it I am sure you know somebody who does. Susan writes with candor and grace.
A Search For Purple Cows
will leave you believing that God is present and able, ready to shine a light on your path.
Where does the title,
A Search For Purple Cows
come from? I will let you find that out for yourself.
I received this book from the B & B Medium Group in exchange for a fair and honest review.