Monday, April 07, 2014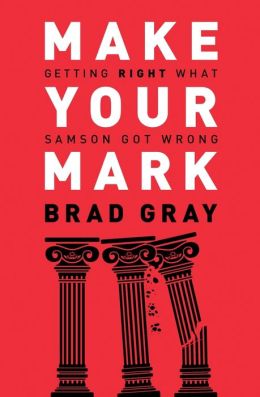 MAKE YOUR MARK
Getting Right What Samson Got Wrong
By Brad Gray
OVERVIEW
: Make Your Mark unpacks the story of Samson to show how there is more to this man than his long hair and superhuman strength. Samson's story is about how he lost sight of God long before he lost his secret power. It's a story for humanity because it's about humanity. Samson was called by God to be a Nazirite: someone who is not allowed to kill. He strayed from this calling and each deviation escalated in degree: he started with a lion and went on to kill three thousand men and women. Brad takes this fascinating story and explores what it means to live out God's fullest design. when we understand how Samson missed his calling, perhaps we can learn how not to miss our own. (From the back of the book.)
AUTHOR: Brad Gray
serves as the Teaching Pastor of Central Wesleyan Church in Holland, Michigan. He has traveled extensively to the biblical lands of Israel, Jordan, Egypt, Turkey and Greece, and currently leads two-week, biblical study trips to Israel and Turkey. Brad has a BA in Business Management from Cornerstone University, an MDiv from Western Theological Seminary and did additional graduate work at Jerusalem University College.
MY REVIEW:
Just about everybody I know has or is struggling with finding their true calling in life. Those of us seeking to live the Christian life want to know God's purpose for our lives and what it means to live that out on a daily basis. This book will help with that!
This book helps to get right what Samson got wrong. Who is Samson? Well, every student of the Bible knows who Samson is but almost everyone, even those who never read the Bible, have
heard
of Samson. Samson is one of the great characters of the Bible.
Brad Gray helps us to see that there is more to the Samson story than what appears on the surface.
In this book he takes the reader beneath the surface to see the "big picture." He gives us a deeper and more meaningful understanding of the story. The real story is one that will inform you, challenge you, direct you and hopefully transform you. Samson's story is a story about life!
I recommend this book as one that will challenge and change you.
(I received this book from Hachette Book Group in exchange for a fair and honest review.)