Monday, March 31, 2014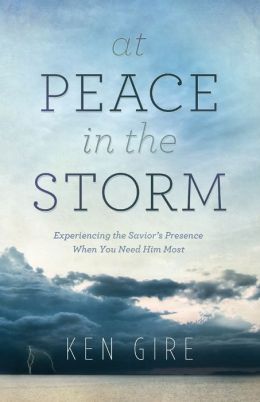 AT PEACE IN THE STORM
Experiencing the Savior's Presence
When You Need Him Most
By Ken Gire
OVERVIEW:
Bestselling author
Ken Gire
weaves together stories from the Bible, history, and his own life to reveal how we can find strength and encouragement through the storms of life. Experience the joy of knowing the God who is always there to reach out a hand and pull you out of the
waves.
(From the back of the book.)
AUTHOR: Ken Gire
(ThM.Dallas Theological Seminary) is the author of twenty-four books, including the bestselling
Moments With The Savior
Series and
Windows of the Soul
. He has won two ECPA Gold Medallion Awards, and two of his titles were selected as C.S. Lewis Honor Books. Ken teaches weekend seminars on writing throughout the country. He lives in Baltimore, Maryland.
MY REVIEW: Ken Gire
is one of my favorite writers. So I was not surprised by how good and helpful this book is. He has done it again. I have a huge library and of all the books on the shelves, Ken's books are among my favorites. His
Windows of the Soul
may be my favorite book. And now this book has touched my heart and helped to calm my soul.
So many are looking for peace. Ken has written thirteen chapters that will help you experience the Savior's presence when you need him most. An old song, one that I don't much like, but that we sang often when I was young, says "Troublesome times are here, filling each heart with fear... ."
I may not have liked singing this song, but it was true then and it is true now―troublesome times are here, filling each heart with fear.
Ken Gire says, "This miracle of the inner variety, this inexplicable and supernatural calm in the storm, is the greatest miracle you'll ever experience." Looking at the chapter titles like, "Peace Through Deep Rest," Peace in and Through Music," Peace Through the Body of Christ," I think to myself, that's just common sense. And it is! But there's not a lot of that around these days. And when we are in the midst of a terrible storm and we cry out to God thinking that all hope is gone and seemly out of nowhere we are swept up in peace―we say "Thank you God for this miracle. This kind of peace could only come from you." You don't want to call it a miracle? Okay. That's alright. But if storms are all around and your peace is gone, get this book. After you read it share it with someone else. You will not have to look far to find someone that needs it.
(I received this book from Bethany House in exchange for a fair and honest review.)